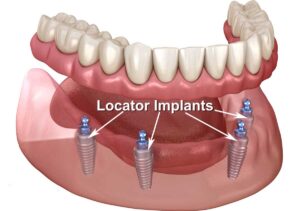 Implant Supported Dentures
Snap on dentures are implant supported dentures. Similar to conventional dentures, they snap in place onto 2 to 4 implants, eliminating the need for denture adhesives and making them feel more natural. Many patients feel they are more natural looking as well.
Snap on dentures require oral surgery.
Locator implants are required for snap on dentures. During the procedure an implant, a screw-like device, is placed in the jaw. For several months the implant will slowly granulate into the bone in the jaw, the bone healing and forming around the implant until it is firmly anchored. Once the implant has solidly fused into the bone a ball-tipped abutment will be placed over the implant. The abutment will be used to secure the denture – it will snap-on to the locator implants. A temporary denture is provided while the implants heal. The custom fit snap on denture will be ready for placement once healing is complete.
Snap On Dentures in Jupiter, FL
Appearance Implant is your local dental expert, serving the Jupiter, Florida, community for more than 35 years. We offer free consultations to evaluate your options. If you are in Jupiter and are interested in Snap On Dentures contact us today at 561-250-6307 to set up a complimentary consultation appointment. We will work with you to design a custom plan for the life of your implants that will keep your mouth healthy and happy and will bring you back to smiling, eating, and drinking with confidence and ease. Finance plans are available.