Partial and Complete Dentures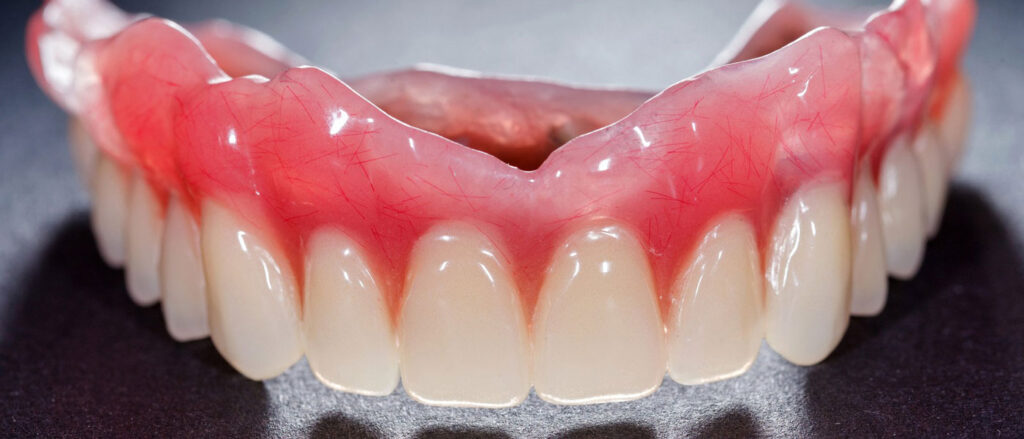 Dentures are a removable dental appliance to replace missing teeth. Modern dentures closely resemble natural teeth and can eliminate embarrassment about missing teeth or damaged gums while enhancing your smile. Dentures are very durable appliances and will last many years and are typically a less expensive alternative to permanent dental implants. With the look and function of natural teeth, dentures can give you back the ability to eat, drink, and smile with confidence.
Why Dentures Are Right for You
Dentures are either "conventional" or "immediate." Conventional dentures are made after the teeth have been removed and the gum tissue has healed, which can take several months. Immediate dentures are made in advance and are immediately placed in the mouth after the teeth are removed at the same visit, preventing the patient from having to be without teeth during healing. But immediate dentures may need adjustment repeatedly during healing as the shape of the gums change over time.
No matter what type you get, dentures can restore lost function and give you back the ability to eat and drink foods you had to previously give up. They restore not only function but confidence, letting you smile with ease. 
However, dentures are not for everyone — their removable design requires daily cleaning and care. Some people would rather have a more permanent solution, such as dental implants. At Appearance Implant, we understand you may be sensitive about missing teeth and we want to give you back that smile. We bring more than 35 years of experience in dealing with nearly every type of dental challenge and will work with you to get the best solution for your mouth and budget.
Partial vs. Full Dentures
Dentures are either partial or full dentures. A partial denture, or bridge, fills in the spaces that occur due to missing teeth and prevent other natural teeth from shifting into those spaces, whereas full or complete dentures are used when all of the teeth are missing, including in situations where remaining teeth have had to be pulled due to decay. 
Denture Care and Repair in Jupiter, Florida
Appearance Implant has been a trusted dental provider serving Jupiter, Florida, residents for decades. Our experienced dental professionals offer excellent, compassionate, comprehensive dental services. If you believe you need dentures in Jupiter, contact us today at 561-250-6307 to set up a free consultation.
If you are missing teeth, good-fitting dentures offer an attractive, affordable prosthetic solution that's less expensive than an implant. With beautiful new dentures, you can restore your smile, gain back lost confidence, and eat and drink the things you love once again.
At our Jupiter office, we will take measurements and create custom impressions or molds to ensure your dentures fit precisely and comfortably. In some cases, implants are advised to support a bridge or denture. Visit our implant page to learn more. Your dentist will place and adjust the completed denture; ensuring you have a natural, comfortable fit and look. Same-day treatment is available for some patients.
You will be given post-operative instructions for your new dentures, which includes daily cleaning of your new dental appliance, good oral hygiene practices, and regular dental visits. Our office is available to answer any questions you will have about wearing your new dentures properly caring for them to ensure longevity and durability.
SCHEDULE YOUR FREE CONSULTATION TODAY!