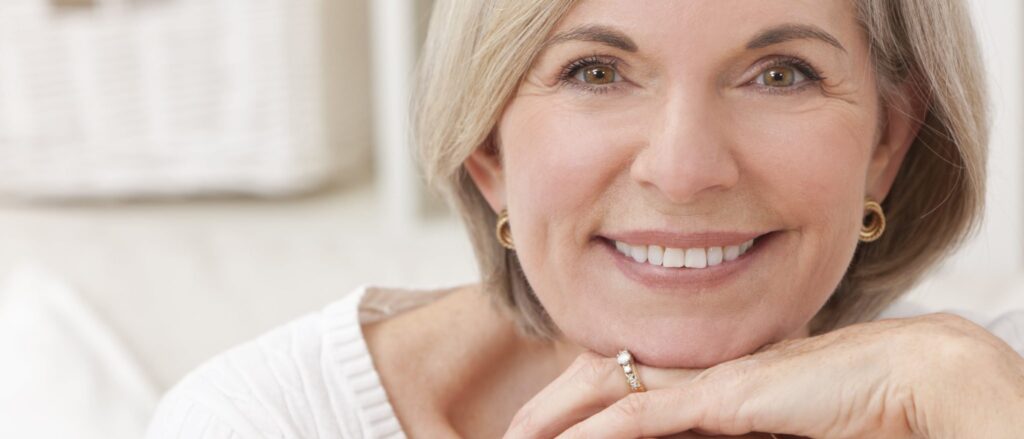 What Are All-On-4 Implants?
Single dental implants can restore the look and function of missing teeth. However, when you are missing several teeth or have lost all of your teeth — which is more common than you might think — you may want to consider All-On-4® dental implants. Traditional dental implants are installed tooth by tooth — one screw inserted into the jaw under the gums and paired with a crown on top — eventually fusing the bone and screw together for a strong tooth replacement. The All-On-4 implant technique involves replacing an entire upper or lower set of teeth (or both) with only four implants (screws) per arch. If you are missing all your teeth or need to have all of your remaining teeth removed due to decay and/or damage, All-On-4 dental implants allow you to have a full set of functional, beautiful prosthetic teeth with only eight implants.
The Benefits of All-On-4 Implants
Restoring teeth via dental implants gives you back the ability to eat and drink what you want and to smile with confidence. Dental implants restore the natural facial structure as well, providing a healthy, beautiful, functional mouth for the rest of your life. All-On-4 dental implants offer an advantage over single implants, as you don't need to replace every single tooth at the root with a titanium implant and top it with a prosthetic tooth or crown. With All-On-4s, only four implants hold the entire upper or lower teeth in place. This delivers great results for people who do not have any of their natural teeth left, restoring function and confidence. Like other dental implants, All-On-4s are not removable, do not require adhesives like dentures, and behave much like natural teeth.
All-On-4 Implants in Jupiter, FL
Appearance Implant is your local dental expert, serving the Jupiter, Florida, community for more than 35 years. We offer free consultations to evaluate your options. If you are in Jupiter and are interested in All-On-4 dental implants, contact us today at 561-250-6307 to set up a complimentary consultation appointment. We will work with you to design a custom plan for the life of your implants that will keep your mouth healthy and happy and will bring you back to smiling, eating, and drinking with confidence and ease. Finance plans are available.
SCHEDULE YOUR FREE CONSULTATION TODAY!